Will Triple-digit International Growth Help
This Stock Outperform the Industry?
Monday, November 5, 2012
In Today's Issue:
Will Triple-digit International Growth Help This Stock Outperform the Industry?…
Rare Earth Penny Stock Waits for Feasibility Report…
Why a "Dead Cat Bounce" Looking Likely with These Penny Stocks…
*****
Will Triple-digit International Growth Help
This Stock Outperform the Industry?
~ by John Paul Whitefoot, BA

John
Whitefoot
The Great Recession hasn't been kind to restaurants in America. U.S. restaurant industry visits declined from 62.7 billion in 2008 to 60.6 billion in 2011, with independent restaurants accounting for 87% (two billion) of the loss in traffic. (Source: NDP Group, "Restaurant Industry Trends," NDP Group web site, June 2011; last accessed November 5, 2012.)
That doesn't mean the U.S. restaurant industry isn't a financial juggernaut. It employs 12.9 million Americans in 970,000 locations; 2012 revenues are projected to reach $632 billion. Highly fragmented, the 50 largest companies hold just 20% of the market. (Source: National Restaurant Association, "About Us," National Restaurant Association web site, last accessed November 5, 2012.)
In 2013, total restaurant and bar revenue is projected to grow 4.7%, with the Limited Service sector advancing the most at 4.8%. (Source: TECHNOMIC, "U.S. Foodservice Industry Forecast," TECHNOMIC web site, August 2012; last accessed November 5, 2012.)
Where are consumers turning? Tastes have changed. Americans are looking for more healthful options at restaurants, but define healthy eating based on quality features, rather than fewer calories. The feature most important to consumers seeking a healthier menu is that of fresh, natural, and nutritious ingredients.
While the slow economic recovery means some restaurants will focus on sales at the expense of adding units; some operators are bucking the trend.
Jamba, Inc. (NASDAQ/JMBA) operates the Jamba Juice chain, the leading outlet for blended fruit drinks, with about 785 smoothie stands in more than 20 states, the Bahamas, Canada, Korea, and the Philippines. Jamba Juice locations include freestanding units, as well as on-site kiosks in college campuses, gyms, and airports.
The penny stock's self-serve unit, JambaGo, plans to have 400-500 units in public schools across the U.S. by the end of 2012. The next stage of growth is to target 3,700 units worldwide, with 70% franchised, as well as expanding JambaGo units into hospitals and other venues. The penny stock is also developing a consumer packaged goods platform that would allow it to sell products directly to retailers.
In an effort to capitalize on changing consumer trends, Jamba announced in February that it expanded its product platform with the acquisition of Talbott Teas. In March, it rolled out a line of natural, fresh-squeezed juice blends in over 700 stores.
Jamba recently announced an increase in its credit agreement to $10.0 million. While the company said it doesn't expect to borrow against the line, as momentum builds, it likes the fact that it has additional working capital if it needs to fund current and future growth initiatives.
The penny stock has a market cap of $151.0 million, a forward price-to-earnings ratio of 24.78, $28.5 million in cash, and no long-term debt.
On November 1, Jamba announced that third-quarter revenue was up 14.7% year-over-year at $65.5 million. The penny stock recorded a quarterly comparable sales increase of 3.9%, marking two years of consecutive, quarterly company-owned stores and system-wide sales growth. Third-quarter net income was flat at $4.1 million, or $0.04 per share. During the quarter, Jamba opened 12 new stores, eight in the U.S., and four in international markets.
"The excellent results Jamba has achieved during the quarter and year-to-date give us good momentum for a strong finish to the year. Based on our strong year-to-date performance, we are affirming our guidance for 2012, and providing a preliminary 2013 outlook that underscores our optimism for the future," said James D. White, Chairman, President, and CEO.
For the remainder of the year, Jamba expects company-owned comparable store sales growth of four percent to six percent; and to achieve adjusted operating profit margin of 20% to 23%. The company will develop 40-50 U.S. locations, plus up to 15 new stores at international locations, and 400-500 JambaGO units.
For 2013, Jamba expects to deliver company-owned comparable store sales of four percent to six percent, achieve income from operations of 2.5% to 3.0% of revenue, develop 60-80 U.S. and international locations, and add 1,000 JambaGO locations.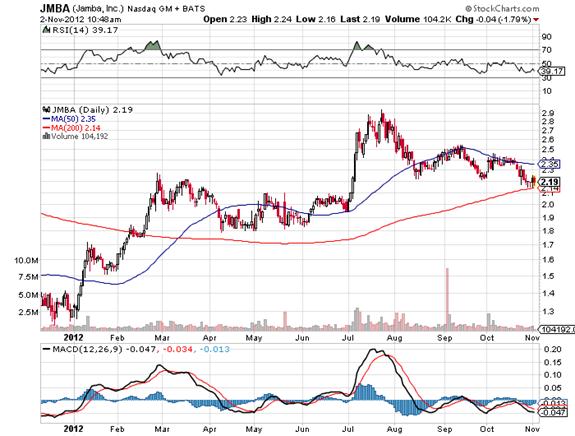 Chart courtesy of www.StockCharts.com
Jamba's share price has been bullish since touching a low of $1.26 on January 4. In early July, the penny stock's share price broke though a resistance level near $2.20. On July 24, it hit an intraday high of $2.94; for a then year-to-date gain of 133%.
After a brief retracement, the penny stock's share prices are flirting with its $2.20 support level; which was its previous resistance level. In addition, Jamba is also trading slightly above its 200-day moving average, suggesting the stock has strong support at this level.
Trading at a key price level, a move to the upside could portend ongoing growth. That could change if the penny stock's share price breaks to the downside. While the company's outlook remains optimistic, penny stock investors may want to see where investors send the stock in the near term.
---
We Told You So…
On Wednesday, August 29, Senior Financial Editor Sasha Cekerevac observed that gold had finally begun to move off yearly. Gold was above its 200-day moving average, and investors were turning their attention to junior mining companies that had previously experienced a sell-off. If gold prices continued to move up, Sasha hypothesized, junior mining companies should follow in step.
One gold mining junior penny stock with a depressed share price was Richmont Mines Inc. (NYSE/RIC). The company has properties in Canada, primarily in Ontario and Quebec.
When Sasha first wrote about Richmont Mines, it was trading at $3.96. On September 21, the company hit an intraday high of $5.50; for a short-term gain of 38.88%.
---
Rare Earth Penny Stock Waits for Feasibility Report
~ by Sasha Cekerevac, BA

Sasha
Cekerevac
Most investors are aware that China produces the vast majority of rare earth minerals in the world today. Because of this reliance, mining companies have spread out around the world to start looking for economically viable rare earth minerals. This is to help companies diversify away from China, which has shown to be difficult at times when issues arise with the supply for rare earth minerals.
Mining companies are exploring the U.S., Canada, Africa, and Australia. For years, it has been known that these areas do hold rare earth minerals, but mining companies haven't developed these sites, because Chinese firms have been able to dig these minerals out of the ground for a lower cost. However, as technology grows, so too will demand, as we have seen prices move up over the last decade.
While the pricing for rare earth minerals is volatile, as we've just seen a correction last year, I believe the long-term trend is still positive. The time between mining companies finding larger reserves of rare earth minerals, and the companies actually bringing it to market, takes several years. Perhaps the time is right to start thinking about acquiring the stocks of some mining companies before prices begin to move up again.
Some mining companies offer better prospects than others. One name in the rare earth minerals sector that is interesting is Avalon Rare Metals Inc. (AMEX/AVL; TSX/AVL). The firm owns several properties in North America that it believes contain significant levels of rare earth minerals. Its main property is the Nechalacho deposit near Thor Lake, Northwest Territories, Canada. A fully funded feasibility study is now underway, being conducted by SNC Lavalin, which should be completed in the second quarter of 2013. The firm expects production to begin in 2016, with sales beginning in 2017. (Source: Avalon Rare Metals, Investor Presentation, September 2012.)
The company has no debt, and has $46.0 million in cash. The stock has a small market capitalization, with a value of $173.0 million. (Source: Yahoo! Finance, November 2, 2012.) While some mining companies have had trouble in the past when it comes to rare earth minerals, many times it was due to too much leverage. By keeping its operations devoid of leverage, the firm is free to proceed at its own rate. This company is still a young firm that's exploring and developing its property. While it will take several years for rare earth minerals to be produced, it appears Avalon has a good property with substantial possibilities for growth once operational.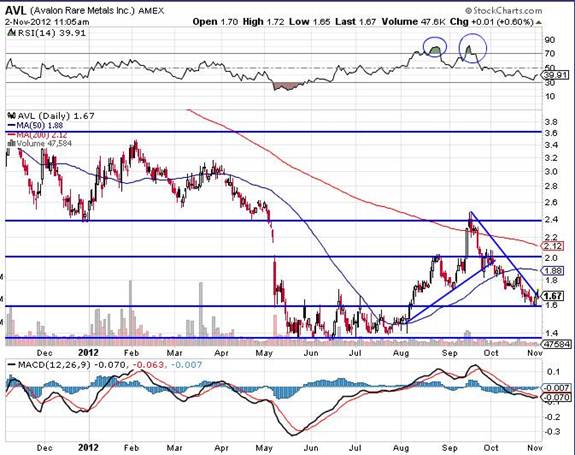 Chart courtesy of www.StockCharts.com
The stock has sold off along with other mining companies in the rare earth minerals sector, but recently, we've seen a significant amount of volatility. Note the horizontal support and resistance levels, as the stock certainly trades accordingly. The initial attack on its 200-day moving average was rebuffed, and the stock is now in a pullback to a long-term support area. More than likely, the stock will trade in a trading range until the feasibility report is issued next year.
Clearly, there are opportunities for investors looking to add mining companies and early-stage, exploratory firms in the rare earth minerals space. As more devices are built, the uses for rare earth minerals continue to grow, as does demand for these mining companies. Caution is always warranted, especially for the early-stage exploration firms that are in the process of evaluating what their properties actually hold.
---
Why a "Dead Cat Bounce" Looking
Likely with These Penny Stocks
~ by Mitchell Clark, B.Comm.

Mitchell
Clark
The carnage continues, as solar energy stocks and many former large-cap companies have now been relegated to penny stock status. It's been a perfect storm, especially for U.S.-listed Chinese solar energy stocks—competition, flattened demand, and declining subsidies for solar panels have taken the wind out of much of the industry.
One China solar energy company that's been decimated on the stock market is Suntech Power Holdings Co. Ltd. (NYSE/STP). This penny stock used to be a large-cap powerhouse on the stock market, hitting over $85.00 a share late in 2007. Even more spectacular than the company's price appreciation on the stock market to that point has been its massive collapse. Suntech is now a penny stock, trading recently around $0.82 a share. The company's recent stock chart is below: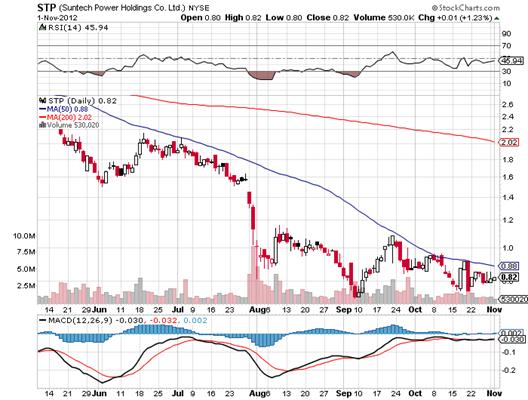 Chart courtesy of www.StockCharts.com
LDK Solar Co., Ltd. (NYSE/LDK) is another example. This Chinese solar energy manufacturer hit a high on the stock market of around $74.00 a share in 2007. It subsequently dropped to $28.00 a share and then appreciated back up to $70.00. Now LDK is a certified penny stock, trading around $0.89 per share after bouncing off its all-time low. The company's stock chart is featured below: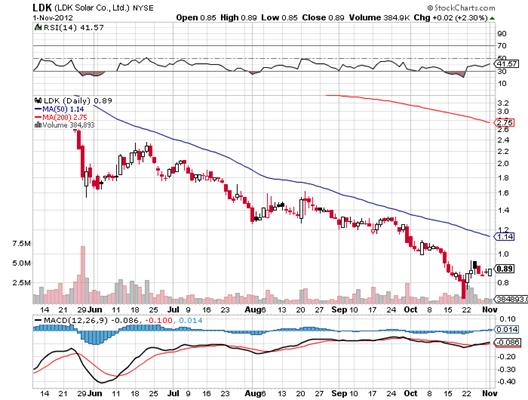 Chart courtesy of www.StockCharts.com
Both these examples show the degree to which wealth can be created and destroyed on the stock market. I wouldn't be speculating in these penny stocks at this time, but I would be following them. I think some of these penny stocks will experience a recovery bounce in the not-too-distant future, especially if Chinese economic data continue to show improvement.
Germany is on track for record installations of solar energy equipment this year. The country decided to get out of the nuclear power business, so a lot of solar panels will be coming its way from China. Of course, it won't be enough to get the manufacturers out of penny stock status, but risk-capital traders might want to keep this sector on their radar screen going forward. A major stock market recovery isn't in the cards for these penny stocks, but a "dead cat bounce," or a minor, brief recovery, looks likely.
---
Our Editorial Policy: Our writers are forbidden to own any stock
they write about. All our editors execute a document to this effect.
—
Copyright 2012; Lombardi Publishing Corporation. All rights
reserved. No part of this e-newsletter may be used or reproduced
in any manner or means, including print, electronic, mechanical,
or by any information storage and retrieval system whatsoever,
without written permission from the copyright holder.
—
Dear Reader: There is no magic formula to getting rich. Success
in investment vehicles with the best prospects for price
appreciation can only be achieved through proper and rigorous
research and analysis. The opinions in this e-newsletter are just
that, opinions of the authors. Information contained herein, while
believed to be correct, is not guaranteed as accurate. Warning:
Investing often involves high risks and you can lose a lot of
money. Please do not invest with money you cannot afford to
lose.
—
Penny Stock Detectives is only sent to those who subscribed to it
and is not intended to be sent to those who do not want to receive it.
This e-mail was sent to
because you opted in to this service. If you want to stop receiving
Penny Stock Detectives e-mails, please click here to .
—
Comments on today's PENNY STOCK DETECTIVES? You can send
them to psd@lombardipublishing.com
—
To ensure you receive your PENNY STOCK DETECTIVES
without interruption, it's recommended that you add us to your
address book. Please click on the following link for helpful
instructions:
http://www.pennystockdetectives.com/whitelist/
If you are unable to open the links in this e-mail, please copy and
paste http://www.pennystockdetectives.com into your browser.
—
To view our privacy policy, please click here:
http://www.pennystockdetectives.com/privacy-policy
—
LOMBARDI PUBLISHING CORPORATION
News, Analysis, and Information Services Since 1986.
One Million Customers in 141 Countries.
Lombardi Publishing Corporation
Financial Publications Division
350 5th Avenue, 59th Floor
New York, NY 10118