Dear Fellow Investor,
A recent report from Barclays (NYSE: BCS) shows that more than 40% of polled investors fear an Obama win could hurt investment gains. That's compared to less than 5% of those polled who fear Romney could do the same.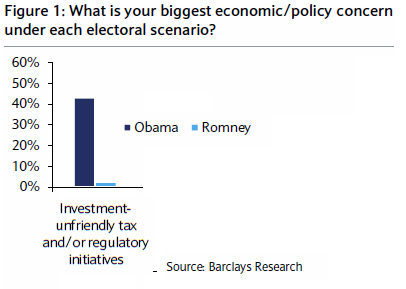 And the biggest potential change in investment taxes seems to be dividends.
By conservative measures, dividend taxes could triple for some investors – and at least double for almost everyone else.
Before tomorrow's election, there's one piece of additional research you should look into.
It's a report just published by Ian Wyatt, CEO and Founder of Wyatt Investment Research. It details a unique type of dividend company that will be almost entirely exempt from any additional taxes on dividends.
For income investors it might be the perfect solution to higher taxes that are due to hit Americans on January 1st, 2013.
Click here for the full story on these unique dividend companies.
Good investing,
Ian Wyatt
Chief Investment Strategist
Wyatt Investment Research
---

This is a communication from Wyatt Investment Research.
We respect your privacy and therefore this email has been sent directly from Wyatt Investment Research. Wyatt Investment Research does not provide our email lists and other data to third parties. This is consistent with our Privacy Policy as outlined on our web site. You may review it at www.WyattResearch.com.
If you do not want to receive future communications from Wyatt Investment Research, please follow the instructions below.
You are subscribed with the following email address:
To from Wyatt Investment Research emails visit wyattresearch.com/unsub
If you believe this communication to be a mistake or unsolicited, please e-mail abuse@bfpnewsletters.com with details regarding your situation, and we will be sure to promptly investigate your situation.
Ian Wyatt's High Yield Wealth
c/o Wyatt Investment Research
65 Railroad Street
PO Box 790
Richmond, Vermont 05477